You are here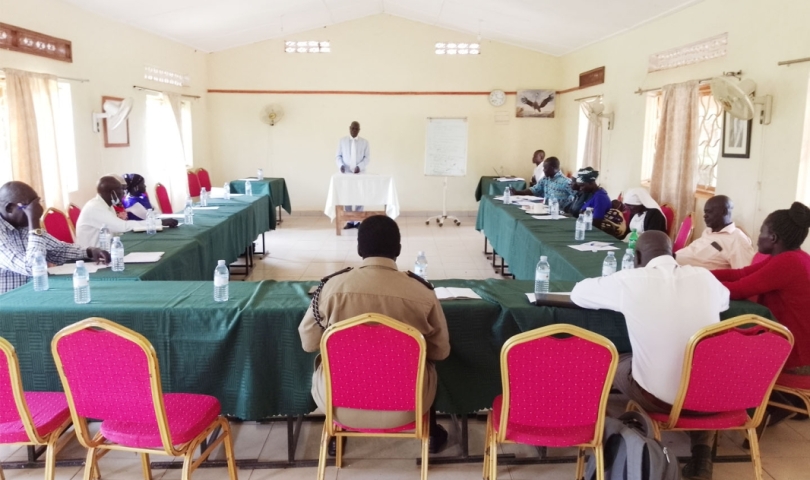 Stakeholders taking part in a peace building meeting at Hotel Premier in Yumbe District
By Achidri Akim
The Deputy Resident District Commissioner of Yumbe District Mr. Vuyaya Mathew Vuni urges stakeholders in the district never to underestimate misunderstandings that may seem minor.
Vuyaya who represented the Resident District Commissioner while presiding over a peace building meeting held at hotel Premier says that, what usually seems a minor issue later deepens into a crisis.
Giving an example of strikes in schools, Vuyaya says that they never happen in a single day but build up over time and can be fixed without turning bloody  if early warning signs are timely addressed.
The Deputy Resident District Commissioner also requested elders to take lead in solving land disputes at the lower level adding that they know history of land ownership in the communities very well.
The meeting organized by Uganda Society for Disabled Children (USDC) involving Yumbe District Peace Committee is aimed at obtaining feedback from the communities about abuses relating to women with disabilities and strengthening prevention mechanisms.
With Funding from UN Women, USDC is currently implementing ''Removing barriers to women Affected by Disability, meaningful participation in decision-making processes and responses related to conflict prevention'' project in Yumbe District.
Abuses cited during the meeting range from gender based violence, denied right to land ownership and negligence of parental roles by husbands to the women with disabilities.
However, the project coordinator Mr. Eritu John Patrick confirmed that the current project is coming to an end and says hopes to continue supporting women with disabilities on the side of USDC hangs on balance as their next bid awaits donor approval.
Despite acknowledging success in areas of Kei and Odravu Sub counties regarding the management of rights abuse cases against women with disabilities, feedback from representatives of victims still point to persistence of the vice.
As the cases of abuses relating to women with disabilities persist in Kei and Odravu despite the successes registered by USDC, majority of the sub counties are doing badly because they were not selected to benefit from the intervention as it targeted a few areas due to limited funds.
 Drichiru Neyima one of the victims from Kei testifies that, her first husband ran away leaving her to struggle from the time of pregnancy to that of child birth until now he has never surfaced again.
Drichiru who now struggles to meet the demands of the nine years old whose father's where about can't be traced says she got another who again degenerated from being a soul mate to a habitual offender insulting her quite often.
In response to the problem, the USDC Project Coordinator equally appealed for increased networking and information sharing on misunderstandings among community members for better and timely resolution of conflicts.
Updates

Opportunities

Partners