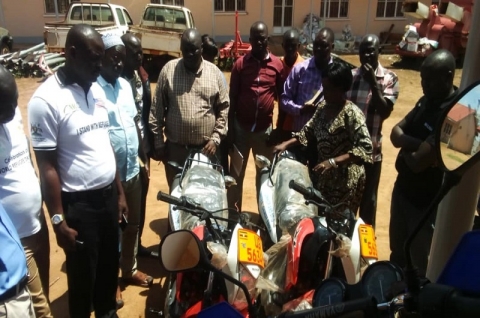 Event Information:
YUMBE. United Nations High Commissioner for Refugees (UNHCR) through the ministry of health has donated two motorcycles to Yumbe district health department to handle issues of Ebola in the district.
Speaking during the commissioning of the motorcycles, Dr Alfred Yayi the district health officer said the motorcycles were procured by UNHCR and handed over to the ministry of health for refugee-hosting districts.
"We have allocated the motorcycles for the district surveillance focal person and the district health educator to do Ebola-related work though we can use them for other programs in the health sector as well", he said.
He appreciated the ministry of health and the partner UNHCR for the support though they still have more gaps but all these gaps can't be addressed in one day.
Ms Jane Alejo the secretary for social services said the donation of the motorcycles will address the transport challenges in the health sector.
She cautioned the officers who were allocated the motorcycles to put them to the right use.
"In most cases as local governments when we get motorcycles like this, the people to whom the motorcycles are given misuse them. We shall not be happy if the motorcycles are seen parked in bar places, near video halls and the person found misusing them will be punished", she said.
She called upon the officers responsible to use the motorcycles to address health-related issues especially Ebola cases in the district.
Mr Richard Andama the Yumbe RDC applauded UNHCR and the ministry for the offer and observed that the motorcycles will help them in delivering services.
Date:
Tuesday, 19 November 2019