You are here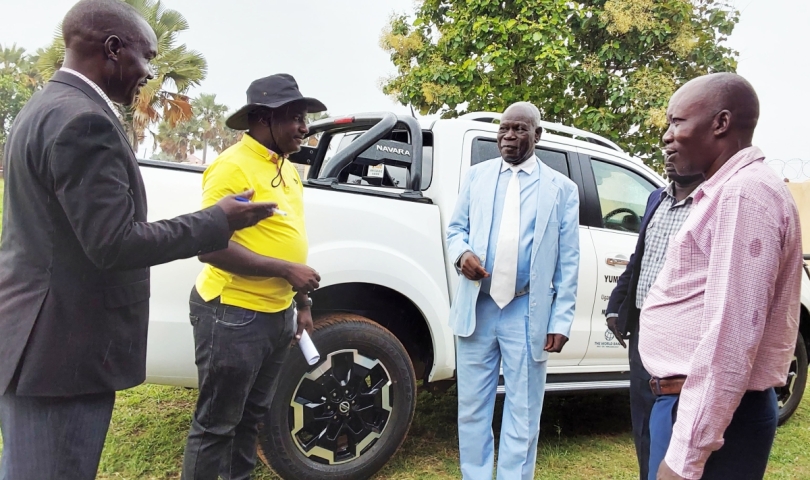 The USMID Coordinator (left) receiving the brand-new car on behalf of the district as district leaders witness.
By Achidri Akim and Majubo Rafah,
Yumbe District Local Government receives a brand new Nissan Navara double cabin under Uganda Support to Municipal Infrastructure Development-Additional Funding Program (USMID-AF) financed by the World Bank.
The 200 million worthy brand new double cabin supplied by Spider Contractors Limited is meant to ease supervision, and monitoring of USMID-AF infrastructure project works on site in the entire Yumbe district.   
 The Friday 31st March 2023 handover event of the car was witnessed by the Deputy Resident District Commissioner, Vuyaya Vuni Mathew, the District Vice Chairperson, Kayiah Linus and the Chief Administrative officer represented by Kaiga Rasul among others.
Ijosiga Sulai, the coordinator for USMID-AF projects- Yumbe district during the event held at the district headquarters, says the vehicle has arrived timely and it will ease supervision.
"The district leadership is much pleased with this timely arrival of the car. We are all aware that the project sites are quite dispersed, and this has somehow affected supervision. But now I believe the challenge will be history as supervision will be done quite easily." Says Ijosiga Sulai.
Kaiga, who stepped in for the Chief Administrative Officer, the overseer and the custodian of all assets in the district says, the vehicle will help to properly and timely monitor and supervise USMID-AF projects, and also continue to aid the district at a later time when USMID-AF projects close.
"It will remain the property of the council and it will continue to help the district run supervision of district projects." He further stressed.
Steward Ntege, Manager- Spider Contractors states that the vehicle will be serviced free of charge in Arua for a period of three years.
The double cabin received by Sulai on behalf of the district shall be placed under the department of works and technical services headed by the district engineer who is also the project manager for all USMID-AF projects in Yumbe district. 
Updates

Opportunities

Partners