You are here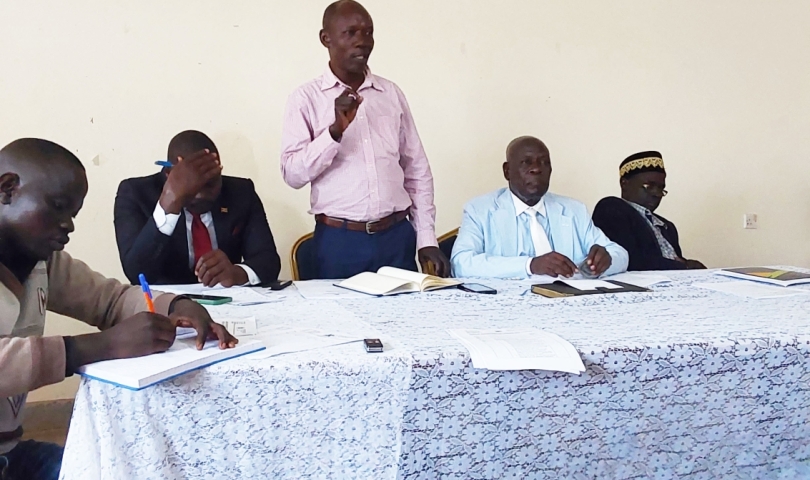 Kayiay Linus the District Vice Chairman (standing) amidst other top district leaders delivers his verdict on the fate of contractors.
By Achidri Akim and Majubo Rafah,
Yumbe district leaders express the need to profile project contractors. This follows a number of concerns that were raised during the seventh site management meeting in relation to works under the Uganda Support for Municipal Infrastructure Development –Additional Funding program (USMID-AF).
The deputy RDC, Vuyaya Vuni Mathew, Kaiga Rasul, who represented the Chief Administrative officer took the drastic step on the basis among which include; failure to produce reports, the slow pace of work on-site, and the generally low quality of work.
Friday 31st March 2023 was destined to assess the USMID-AF infrastructure projects work progress and also give a platform form for the project contractors to produce reports for the purpose of feasibility and accountability.
Kayaih Linus, the district vice chairperson says the quality of work some contractors produce brings to the table the question of their qualifications and profession.
"The quality of work vis-à-vis the pace at which some of the contractors do the work is so alarming, some sites seem abandoned yet the promised time of completion is elapsing," Kayaih said.
He further stated that some contractors fail to produce rich reports, something which is compromising monitoring and evaluation of their work progress.
On the same, Vuyaya the deputy RDC observed that some key personnel operating on sites have no respect for the people who visit sites during supervision.
"Some workers on site underestimate people sent to monitor their working progress." Vuyaya voiced.
Vuyaya stressed that the clerks of works on site being undermined are sent by the district to do monitoring and supervision and must be respected.
Sulai, who doubles as the coordinator of USMID-AF projects and also the chairperson during the meeting upon expressing some bit of fear regarding the quality of work by some of the contractors urged the clerks of work to keep a very close eye on the underperforming contractors.
"Contractors are severally informed to submit updated work programs. But up to now some still submit black and white pictures in reports." He emphasized.
The USMID-AF infrastructure projects are being implemented by Abude Contractors Ltd, Spider contractors Ltd, Ti- Dan Investments, and CMD Investments among others. These multi-billion projects are in the last stages of completion and the projects are funded by the World Bank.
Updates

Opportunities

Partners