You are here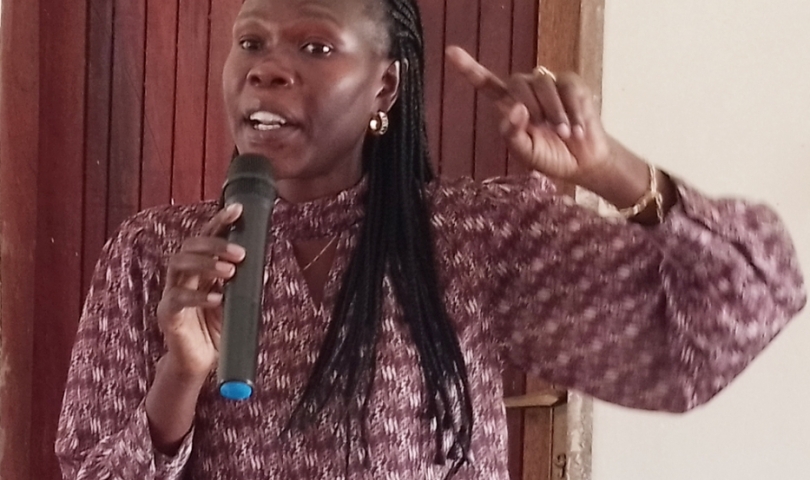 Hon Evelyn Anite delivers speech during PDM sensitization meeting in Yumbe
By Achidri Akim
Honorable Evelyn Anite the Minister of state Privatization and Investment commended the leadership of Yumbe District Local Government for overwhelmingly embracing Parish Development Model.
She made the remarks while addressing Yumbe District Local Government officials and other stakeholders during a sensitization meeting on Parish Development Model held at the district headquarter today.
She revealed that, Yumbe is so far among the best performing districts in the country regarding the parish development model program. She attributes this success to the high degree of commitment both technocrats and political leaders have demonstrated.
The Parish Development Model is a government of Uganda initiative which is aimed at increasing household incomes and improving the quality of life among Ugandans.
''My people this is the time to get rich, we first of all have the numerical strength which is itself power, we are talking about 700,000 people a number that qualifies to provide market for goods produced here , countries call themselves super power because of their population size'' Anite explains.
She notes that, what people lacked previously was money to invest in businesses adding that the huge sums of money which they will soon be given under the parish development model; their life should be able to change for better.
The District Production Officer Yumbe District Local Government Kawawa Rashid however advised the target beneficiaries to invest in production of goods that have got market demand.
Yumbe District in line with its huge population, is expected to acquire 2 billion two hundred million shillings under the new intervention bigger than for most other districts.
Updates

Opportunities

Partners